Marriage Biodata Format for Boy
Do you want to download the marriage biodata format for a boy?
This is the ultimate guide to creating an effective marriage biodata for a boy.
The step-by-step guide on this page will show you how to create and download a marriage biodata format for boy in 5 minutes with computer or mobile skills.
After completing this guide, you will have a beautiful marriage biodata format ready to share with your relatives.
Sample Marriage Biodata Format for Boy
If you're looking for samples of a marriage biodata format for a boy, here are four samples to get you started: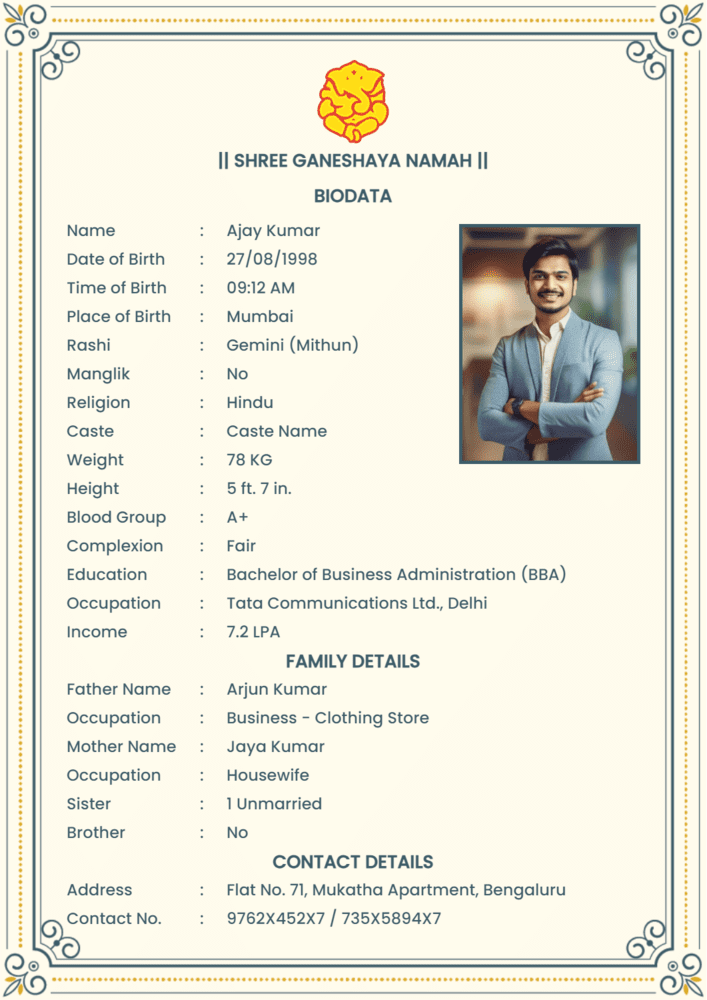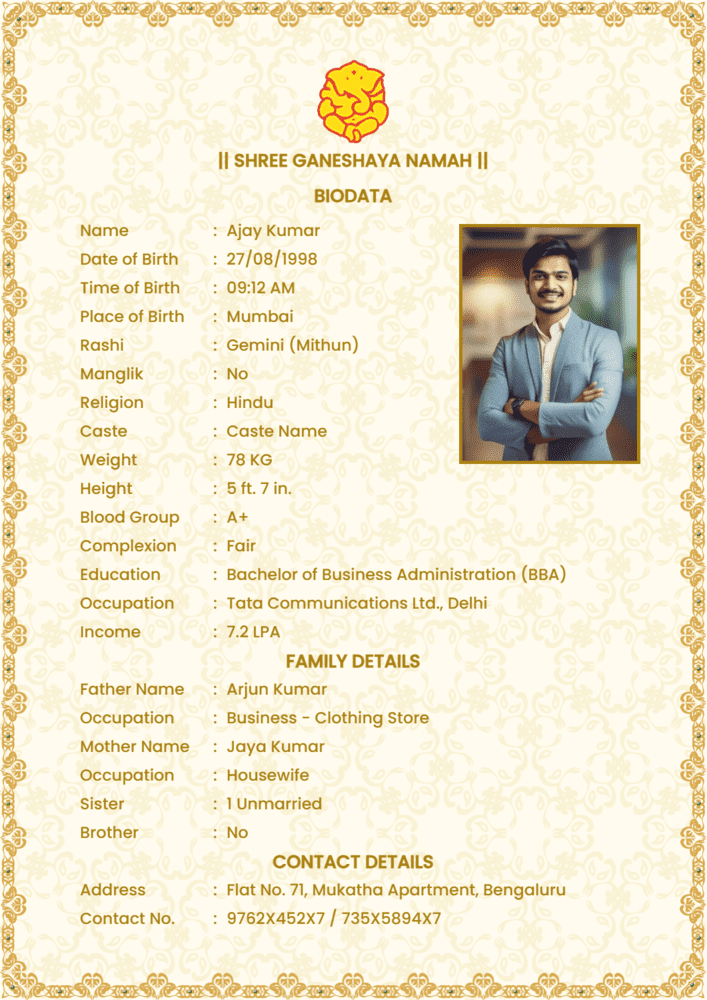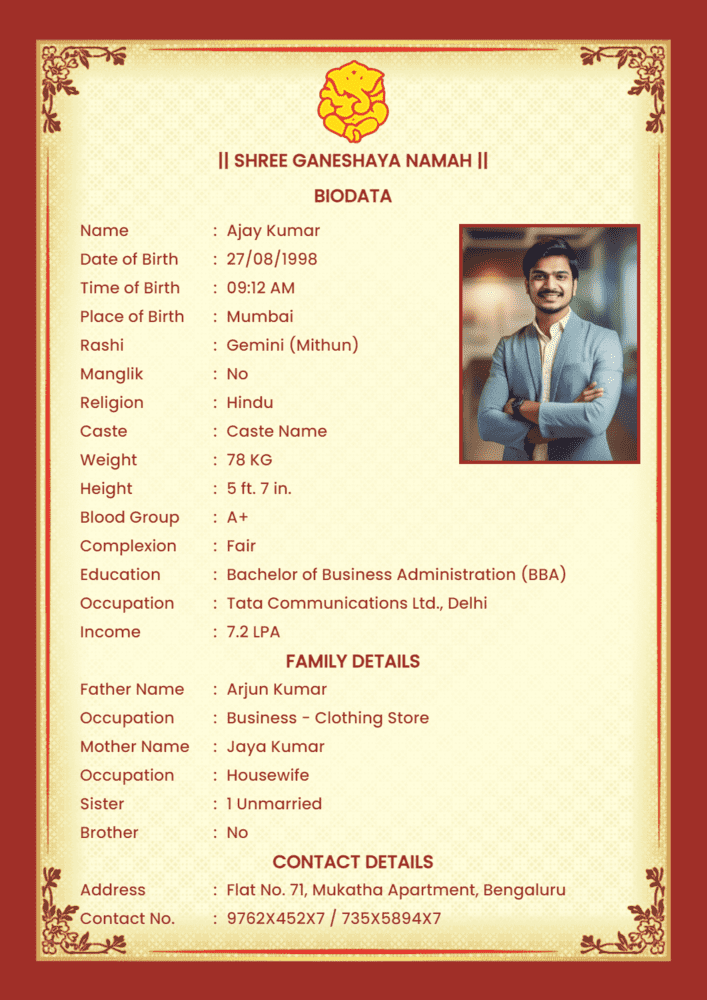 Necessary Sections to Include in Marriage Biodata Format for Boy
A marriage biodata format for boy is a document that provides prospective partners and their families with an overview of the boy's personal, professional, family, and contact details.
A boy can showcase his personality and attract potential suitable partners by creating an impressive marriage biodata.
Here are some essential sections to include:
Personal Details
Full Name
Date of Birth
Time of Birth
Place of Birth
Religion
Caste & Sub-caste
Kundli Information (Rashi, Nakshatra, Manglik, etc.)
Hobbies
Height
Weight
Blood Group
Complexion
Education
Occupation
Income
Family Details
Father's Name
Father's Occupation
Mother's Name
Mother's Occupation
Total Sisters
Married Sisters
Total brothers
Married brothers
Contact Details
Residential Address
Contact Number
Below is an example of a filled marriage biodata form for a boy to help guide you in creating your perfect biodata for marriage.
Personal Details
Full Name
Akshay Deshmukh
Date of Birth
27/03/1999
Time of Birth
07:21 AM
Place of Birth
Mumbai
Religion
Hindu
Caste & Sub-caste
Rajput
Rashi
Leo
Nakshatra
Ashwini
Manglik
No
Hobbies
Playing cricket, travelling.
Height
5 ft. 9 in.
Weight
72 KG
Blood Group
A+
Complexion
Fair
Education
MCA
Occupation
Software Engineer - TCS
Income
8.3 LPA
Family Details
Father's Name
Akshay Deskmukh
Father's Occupation
Manager in Finance Company
Mother's Name
Namita Deshmukh
Mother's Occupation
Housewife
Total Sisters
1
Married Sisters
0
Total brothers
2
Married brothers
1
Contact Details
Residential Address
178, Pankaja Apartment, Bangalore
Contact Number
98X52X71X9 / 96X52X47892
So, you can copy the above data and paste it on Microsoft Word to make the biodata or create and download it from englishbiodata.com.
Difference between Marriage Biodata Format for Boy & Marriage Biodata Format for Girl
There are a few key differences to keep in mind when it comes to the marriage biodata format for boy and the marriage biodata format for girl.
For one, the format for a girl's biodata may include more information on her family background and upbringing. In contrast, a boy's biodata may focus more on his education and career aspirations.
Additionally, a girl's biodata format may include details on her interests, hobbies, and personality traits, while a boy's biodata may highlight his skills, achievements, and future goals.
Ultimately, the format for a marriage biodata should be tailored to the individual's unique qualities and characteristics, regardless of gender.